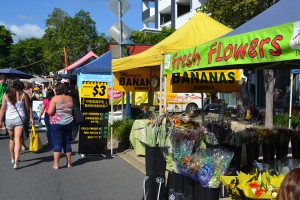 It wasn't strictly a farmers market per se. It certainly had all those qualities but most farmers markets that I know of occur more than once a month. I gathered then that this Australian style farmers market was more on the order of a local celebration of products.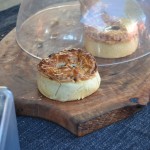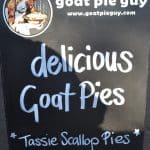 My friends here in Australia have insisted that I try at least a few things that are quintessentially Australian style. One such item sounds like a beef and/or chicken pot pie sort of thing. But I had been assured that it was a different experience.
As it happened we found a vendor of Goat Pies. These Australian style pies weren't merely goat meat in a pie. They were a tasty arrangement of goat and a myriad of Indian spices, which I love anyway, all encased in more of a pastry box. Looking at this picture you can see that it's round. So maybe it's a goat box.
The other item is a light cake dipped in chocolate and coconut and we found one of those as well. It was a tasty morning for sure. Unfortunately I didn't get a picture of that one. It disappeared fairly quickly.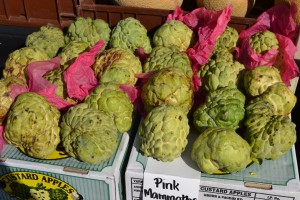 This event is well attended with all sorts of people attending and purchasing the various fruits, vegetables, flowers, pies, cakes, fresh seafood and meats as well as a myriad of all Australian Style items. It was certainly a plethora of vibrant sights, sounds and smells.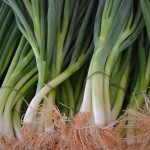 And as we shopped in this one fruit stand I found several items that I have never before even heard of like custard apples that evidently taste like apple pie in a wrinkled fruit. Also of note are some of the vegetables and fruits that are much bigger and healthier looking that the same things I have seen in markets in Maine. They have lemons the size grapefruits.
I was at the grocery store the other day and spotted what I thought were scallions, except that the size was more consistent with leeks. So when I saw them again today I had to buy some for the salad we'll be having at my first Australian Style Barbecue out on the deck under the stars. *I've been informed that shrimp on the barbie and fasters beer are not real Australian Style. I did have a White Rabbit Dark Ale the other day that is Australian.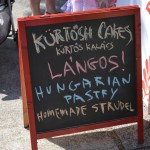 I just know that you'd like the latest and best travel tips and information. So click here and you can learn from my myriad experiences.