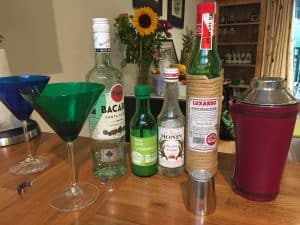 So it was Friday last night and the end of the week. I've covered a lot of ground here in Edinburgh. I've traveled to parts of the city that I've not seen before as well as lots of places that I remember from previous trips. It's been a long week and I've walked a lot of kilometers.
A long involved week certainly calls for down time and tasty morsels and drinks. And in Scotland I have come to understand and accept that tasty drinks with friends is a way of life.
It was just two of us last night. Nevertheless we fired up the grill that's out on the deck. This deck runs the entire length of the house where I am staying and right next to it is a meandering stream that actually runs through a lot of Edinburgh.
It's called the water of Leith and there's a nice path that runs along it's other bank. I was able to access it easily just a couple of weeks ago.
But the deck is a great place for grilling and now there's a nice fire pit out there too. It replaces the makeshift fire pit that was essentially on old kettle grill. The new one look like THIS
While we've had a few evenings where there seemed to be more smoke than fire per se. . . we have fire logs now and that makes all the difference. There's nothing quite like sitting out on the deck next to a fire and listening to the rippling current of the river.
Last night's drink of choice was a Hemingway Daiquiri. I'd actually never heard of it but my friend Tonya is a master mixologist. And of course she put's her own little twist on it by coating the rims of the glasses with sugar.
In fact as she's been teaching another friend how to make her signature Espresso Martini, she then took the time to teach me to make this Hemingway Daiquiri.
Trust me when I say I had lots of practice. The more I practiced it seemed like the better they got.
I'm not a bad cook and I can certainly pour a nice glass of wine but I had never really had much appreciation for the cocktail shaker thing that you might see in bars and certainly in films. But after last nights education I have to admit that the shaker makes all the difference.
Tonya has one that has some special meaning for her. It essentially looks like this one HERE
At some point I had to wrap a towel around it because the shaker becomes frosted. In fact Tonya said that that's ideal and means that the drink is ready.
There's a good reason for why they say "shaken and not stirred."
Here is the recipe that we enjoyed last night.
Hemingway Daiquiri
4 ounces of light rum. . .Bacardi does nicely
1 ounce Maraschino Cherry Liquor
1 ounce Lime Juice
1 1/2 ounce fresh squeezed Grapefruit juice
1/2 note of simple syrup
Oh, and it you want a little extra decadence try adding a Maraschino Cherry or two. Tonya has these from Italy that are incredible.