I had planned to go see Craigievar Castle as my last stop on the Castle Trail but as I was looking at my plans I discovered that it was closed on Thursdays. So I decided to extend my trail by a day and that I would do some back tracking and visit some other sites I had skipped.
But that also meant that I would need another place to stay before then getting to Craigievar the next day. . . after 11:00am when they evidently opened for the day.
AirBnB provides a plethora of options for one night stays. I like them because I can often get a place that has a kitchen where I can create something tasty to eat and not necessarily have to go out for dinner.
Get $40.00 of of your first trip Here
While perusing the options i came across this one called Daviot House that appears to be a Castle itself. It certainly looks like a castle, what with the crenelated tower, turrets and oriel windows.
OMG I certainly chose the right place. It was really easy to find. The rooms are enormous and there are interesting details everywhere. In the updated kitchen the ceiling is 15 feet high. The views from every window are of rolling Scottish countryside. And at night there is a wee twinkling of lights from Inverurie just along the horizon.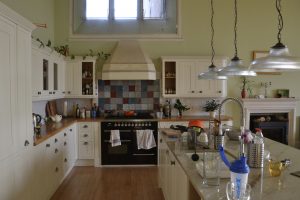 Evidently the complex where Daviot House is located was once a part of Aberdeen Royal Mental Hospital. On the grounds there was a hospital for men and another for women. There was a stables building and a boiler house that provided heat for all the buildings on the campus.
In 1994 the institution was closed and the campus sat unoccupied for about 10 years. Within the last several years updates and renovations have taken place and the buildings are now entirely residential.
No. 2 House of Daviot is the central-most part of the former manse which is now divided into 5 properties. For the past six years Matt, the host, has been passionate about renovating this amazing castle-like space.
On the ground level there is now a sweeping staircase with wood paneled wainscoting in what is a reception room. Just through the door is a lovely library with the fifteen foot ceilings and original plaster castings on the ceiling.
One door takes you into the massive space that is the kitchen. Another door takes you into what Matt calls the Ballroom. In the ballroom there are more original plaster casting designs on the ceiling as well as a doorway out to the conservatory that extends the full length of the ballroom.
On one landing Matt has designed and installed a nice office space for himself.
On the next level are three bedrooms including mine and a massive bathroom with a rain shower head that was simply awesome to stand under and an old styled clawfoot bathtub.
Up yet another level and there is another bed room/workshop area. And on the top level the space mirrors that of the ground floor with several really large rooms as well as three more bedroom spaces that are as of yet a work in progress.
Matt has done amazing work. We enjoyed some nice conversation and a wee dram of Scottish Whisky the night I arrived. In the morning a simple breakfast was provided and then a jaunt around the property to capture a few pictures before heading out to my next Castle; Craigievar.
If you happen to be in the area make sure to stop for a bit. You won't regret your stay here at Daviot House