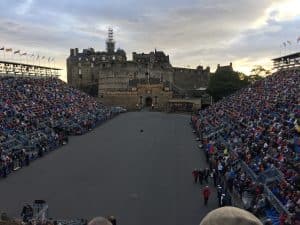 The Royal Edinburgh Military Tattoo was brilliant.
I love hearing the bagpipes anyway and so hearing them being played en masse with the pipers all decked out in their Scottish Military regalia met and exceeded my expectations.
First, I had great seats. . . looking straight on to the entrance of the castle from which a myriad of pipers and other musicians and performers would enter the castle esplanade. And next, while there was a bit of a breeze it didn't rain. That in itself is a miracle for Edinburgh. It seems like it's raining more often than not.
The theme for this years Tattoo was 'A Splash of Tartan.' The Royal Edinburgh Military Tattoo focus is all about bringing people of all nationalities together in a spirit of friendship and togetherness. Celebrating diversities of worldwide nations has been an underlying theme since the first Edinburgh Tattoo in 1950 that was entitled "Something About a Soldier."
The Tattoo is actually a collection of military bands and dancers from all over the world. So we were treated to fabulous music and marching as well as dancers.
I've included a few of the videos I took there.
Enjoy.
The Tattoo Dance Company: