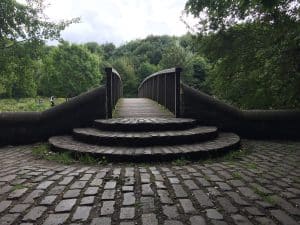 When i finally woke up this morning I was somewhat amused to see the two house cats camped out in my room patiently waiting for me to wake up.
Had they been my cats there would be no patiently. They would have been on the bed telling me that they were hungry and it was time for me to get up and feed them.
I was also greeted, not surprisingly, by all my little electronic devices telling me that it was going to rain. It's Edinburgh. It rains. In fact, I'm told that this has been a particularly wet summer.
One of the things I haven't done in Edinburgh is visit the museums. And what could be better than visiting the myriad museums here in Edinburgh.
I didn't actually get started until after noon. And at that time while still cloudy it was warm-ish and pleasant. At some point I had to take my sweater off because while it had been coolish in the house it was nice outside on the Water of Leith walk way.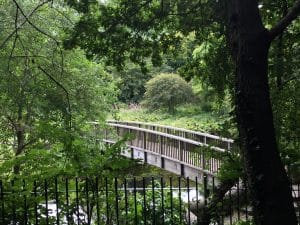 And it's just a short albeit really nice walk along the water of Leith to the wee bridge that crosses the river to the entrance for the Gallery of Modern Art.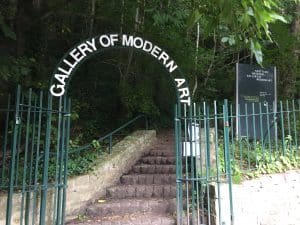 It was a little strange when I got there that the guards at the entrance wanted me (and all backpack carriers) to carry it in front of me rather than on my back. The premise was that they had incurred fewer issues and less damage that way. So while a bit odd I did it anyway.
The museum is lovely and has a nice collection of modern art. Especially nice is the collection of works of school aged children who has participated in contests where they were asked to depict certain images.
The other art that really caught my attention was some of the three dimensional pieces. In one instance there is a room full of 256 cardboard buildings representing places that are currently occupied in Edinburgh. It's very interesting.
Once done with the museum it was still a really nice day and no rain. So I returned to the Water of Leith walkway and made my way past Dean Village to Stockbridge (I made a mistake in my live video when I called it Sturbridge). Just before reaching Stockbridge which is another quaint older community much like Dean Village there is a monument with a Greek statue.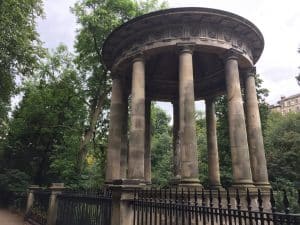 I had forgotten that before this trip I had investigated some of the areas that I have not previously seen and that St Bernard's Well is one of those sites. And here it was and I didn't have a clue until I read the plaque.
Evidently in 1760 a natural spring was discovered at this site on the Water of Leith. And for a time it was believed that the waters from this natural spring were good for your health. Unfortunately this natural spring water also came with a repugnant odor such as the sulfur springs that are found in Colorado.
What remains is this monument complete with a representation of the Greek God of Health Hygeia under a protective dome.
It was a really pleasant way to spend the day. And on my way back I was able to help and re-direct a few lost tourists and a collection of local boys.
And still no rain.