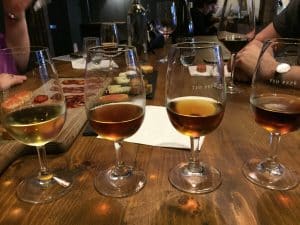 Just a few days ago we went out to Stockbridge for the evening. And the first place we went to is called Goya 23. It's a Sherry tasting experience and wine bar.
Now when I think of Sherry I usually think of the sherry my mother might occasionally have cooked with and the itty bitty bottles of liquor that my Grandmother Ellen and her sister kept (hidden) in their purses.
So i have experienced a little re-education here in Stockbridge at Goya 23 Wine and Sherry Bar.
Sherry is a fortified wine made from grapes grown in a triangular area in the southern region of Spain. Here temperatures are optimal for the cultivation of grapevines. Temperatures here can exceed 40C/100F which are then augmented by the cooler breezes that comes in off the Atlantic Ocean.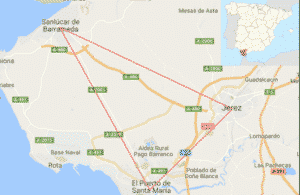 Our Sherry tasting consisted of just four varieties of sherry.
Manzanilla: Is a Fino styled sherry made in the province of Cádiz, Andalusia. This sherry tends to be pale dry white wine.
Amontillado is an aged Fino with and amber color and a nutty flavor with hints of oak flavor from the barrels in which it was kept.
Palo Cortado: is a rare sherry variety primarily because only 1-2% of the grapes develop the correct profile. This variety is cultivated in the easterly region of the triangle.
Oloroso: tends to be a more complex brown shade. It is the darkest of the sherries due to oxidative aging. It is also often used as a basis for the sweeter sherries such as Bristol Cream.