My Greek friend George Katopis recently made some recommendations for future travel in Greece. So I thought I would put that list here for safe keeping and easier reference.
Corfu: It is cosmopolitan with nice beaches.
On Corfu I should be able to find Ithaca, a place that is less developed but which is nice with a reduced amount of tourism than other island locations.
Lefkada – a nice smaller town with famous beaches and also famous for sailing activities and enthusiasts.
Cephalonia – nice beaches as well as interesting beaches where one can go diving.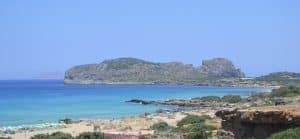 Amorgos – George says that this is a place that I really should get to. He says that the area is replete with antiquities as well as having nice beaches especially on the northern side of the Island.
There is a Monastery on the east side of the island that is unique in that it was built on the face of a rock…the church occurs on three levels. Below that there is a cool rocky beach
The Island is not on the main route for the ferries. Therefore it is not over-run with tourists allowing for more of a true Greek experience. On the north side of the island there are more young people camping but it is worth a visit over there. Also on the island is a fjord that George says is really special.
Naxos –
The Dodacanes-
Rhodes is clearly touristic but has nice beaches and there is a castle there.
In Lindos, Greece there is an excellent Castle and a nice beach. It is also more cosmopolitan. It is an archaeological site, a town and a former municipality on the island of Rhodes in the Dodecanese.
Kos = a nice island
Kalymnos is an island that is known for their finest sponge divers. It is the 4th largest island in the Dodecanese. The island is characterized by it's rocky mountainous landscape.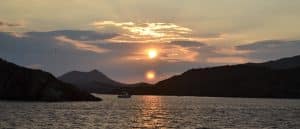 Lesvos = A mixture of Greek and Italian influences. The architecture here is outstanding. The main town has fabulous restaurants and tavernas.There are some interesting mansions to see there. George says to get a car and travel around the island. I could easily spent 4 to 5 days exploring this unique island. And evidently there is another castle there. They are known for their production of Ouzo. While George would prefer to arrive there by boat he says that you can also get there by airplane. Additionally it appears to be a favorite of both British and German tourists.
George recommends that I go there because it is more greek and significantly less touristic than some of the other places I have visited.
When I was on Ios I was told by Greeks there that Lesvos is an island that is remarkably Green and lush which compare starkly to the dry arid rocky landscape of the island of Ios and much of the rest of Greece.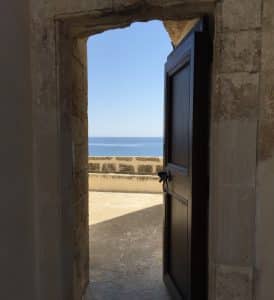 Folegandros – is located on the southern edge of the Cyclades. It is in the same group of Islands along with Ios, Anafi, Sikinos and Santorini. Also not a usual tourist destination. But George says that this is one of his favorite islands. He also told me that there is a hotel there that is built on the edge of a cliff that is 'awesome."
Karpathos is the second largest of the Greek Dodecanese Islands. George says that you have to go to Crete first and then travel to Karpathos. It is known as the Island of the Pirates and can be somewhat primitive compared to some of the other islands. As it is somewhat remote people there are said to have maintained a certain cultural apparel as well as a more primitive dialect.
Samos – This isalnd is in the Eastern Aegean Sea. Evidently this is the birthplace of Pythagoras. George says that the beaches here are tremendous.
Patmos = Is famous with a nice castle on top of the town. The castle is actually a fortress like monastery that overlooks the Chora. Underneath there is a place where St. John the Theologian wrote the book of revelations. The island is in the Northern part of the Dodecanese Islands. George says that there is a rock in the middle of the bay where some famous conflict took place. He said "walk inside the rock."
Kithira – is an island close to the Peloponnese Peninsula. It is also close to Monemvasia. It is listed as one of the seven main Ionian islands and is said to have a fabulous rocky coast that is good for exploration and adventure.

Elafonisos – is a small Greek island between the coast of the Peloponnes and Kythira. The travel industry says that there's not a lot to do there but George says that this island has the most unique experience of Greece. He said that I could stay in Neapoli which is a short five miles away down the coast. From there there is a boat that travels to Elafonisos. There are very good tavernas and the beaches are superior.
Kithyra – In Kithyra the skinny dipping is the thing. In the main town there is a nice castle with a lovely view. He suggests that I might meet more southern Europeans here.
Corfu – This is where they make the Greek drink that I have come to love called Mastica which is crafted from the resin of the Mastic Tree which evidently only grows on this one island of Chios. Corfu tends to be touristy. But there are nice beaches, and elegant old town and nice hotels. George says I should plan to spend a week here.
Chios – is the fifth largest in Greece. It is an island near Lesvos where Mastic is grown. George says it's not the most exceptional island but other friends I have made in Greece recommend I go there at some point. They call it a magical Island.
Other islands he recommends include, Volos, Skiathos – is most popular with Germans and Bitts. Skopelos has a nice Venetian castle on top of a mountain and is a nice place to visit. Alonissos is the northernmost island in the Sporades. It is ideal for rest and relaxation. It has nice beaches. Skyros is the southernmost island of the Sporades. It is known for it's fine beaches, sea caves and seaside villages. They evidently also have have an interesting Goat festival. These are totally different islands from all the others.
I guess I will have to make a point of getting there so that I can make such a determination for myself.