So, I am off on another adventure. Actually I'm a little slowing getting this up on the blog as I am really already here in Greece. My idea is to chronicle my adventure. After all it does make a little sense, right, since this is Travels with Jim.
So this video is something I shot when I was still in Maine. The background is Bowdoin College.


I'm writing this this morning from my work space in Saronida. It's looking to be another glorious sun filled day. This is my third day here in Greece and will my third day of swimming.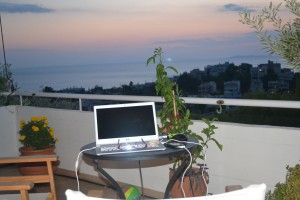 After flying from Thursday noon-ish to  landing in Athens Greece Friday Morning at 10:30 and then essentially jumping in to the Mediterranean for a refreshing swim  I was so grateful to be able to engage in the European tradition of an afternoon siesta. In fact I was out like a light. And I slept for a solid three hours until a dog across the way woke me with it's incessant barking.
Yioryis and Agela went to a movie with their British friend George who had told them about a new Woody Allen film that was showing here in Saronida. I thought it was funny that the film is presented in English with Greek Subtitles. Maybe it was my level of exhaustion. I used the time to do some correspondence and get myself more organized for the short time I am here.
After they returned from the Movie we made our way to a nice outdoor restaurant called Psorou which essentially means Fresh Fish. The young waiters were all attentive and pleasant and treated me as if I was a native. Having studded the language tapes I am now able to pick up enough to understand the gist of what is happening but I am not good enough to engage in conversational Greek just yet. I'll work on it.
And finally here is a photo of the sunset from my first day in Saronida, Greece.