So I am off on my next adventure circumnavigating at least some portion of the world. I arrived in Edinburgh almost a week ago now and as is often consistent with my trips to the UK the sun was out, the birds are singing and I shared with my friend Tonya that traveling here is almost like coming home. I can hardly believe that I have traveled this way now eight times.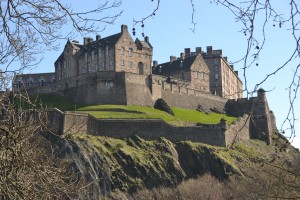 If you've not ever been to Edinburgh, or even Scotland then you should certainly make the effort. It can be a wee chilly at times but it can also be temperate and comfortable. Have a few drams of some fabulous Scotch Whiskey and I can assure you you'll feel warm and toasty.
I love the culture and the land and in Edinburgh itself there's the incredible stone architecture. These structures have been here for some 800 years. My very first time here I was so enthralled with the stone architecture and it's medieval flare that I literally fell off the sidewalk. I was looking up at the fabulous structures and not down at my feet and the end of the sidewalk.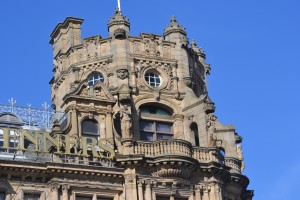 I was only here for less than a whole day (just about a week ago) before I got back into another airplane to cross the English channel on my way to Berlin, Germany. It was really my friend Tonya who had suggested that we go for a short stay in Berlin. After-all it's just shy of two hours away by air-bus and I've not ever been to Germany as a destination.
So the three of us, Â Tonya, David, and I all together made the journey to German with a first stop in Berlin. It's interesting that the Shoenfeld airport is essentially about 45 minutes outside of Berlin. But in Germany much like other European destinations they have these great trains that will take you virtually anywhere. While I may know a few words in German I am by no means fluent and initially struggled a bit with the language and communication just where it was that I wanted to go.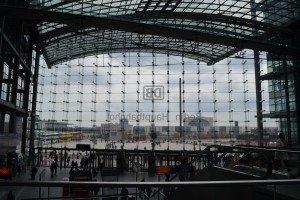 The central Berlin Train station is a wonder in itself to see and explore. It is known as Hoptbanhof. Don't ask me what that means I have no idea. But I was enthralled by the architecture and the engineering marvel of it all. Fortunately I was watching where I was going and didn't fall off of or on to anything unfortunate.
After a wee bit of back and forth and searching for the right platform and the correct train we made it onto a rather nice quiet train that afforded us a really nice smooth ride into Berlin. It was then out intention to catch another train that would take us out closer to the flat that we had rented for our stay but at least two of us had had very little to eat and not nearly enough rest the previous day and so we opted for food first.
Vapiano's is an Italian restaurant that essentially cooks your food to order right there in front of you. The food was delicious. I did discover that I was quite hungry as I was shaking as I was initially eating and ever-s0 grateful that we had found food when we did.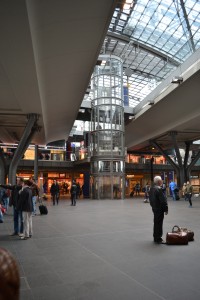 We then opted for a cab to take us the rest of the way. Unfortunately he dropped us off a wee shy of where we needed to be. In the end we did find it and were duly impressed with accommodations that were a far cry better than what we had been led to believe prior to our arrival. And that in itself was a wonderful way to start a really nice holiday with friends.
Internet wasteland comes from the fact that as soon as I arrived in Berlin I had no internet connection and if fact not until my last day there did we actually manage to connect the internet. But because of my virtual Internet wasteland I was not able to update this blog. I've resolved that issue now.