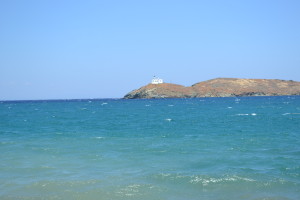 I love to travel. And often I am looking for some new adventure, some new thing that I haven't done before. Often all it really takes is thinking about the things I like to do and then add a little travel to that. It's like cooking..a pinch of this and a pinch of that an a nice phyllo dough and presto-chango it's delicious!
So, as it happens I was in Greece last October and part of November for a few different things. And of course while I was here I traveled to Patras where I got caught in a downpour the likes of which I had never seen in Greece before. In fact I'd never seen it rain in Greece. I also traveled to Nafplio at the suggestion of a friend who knows very well that I have a passion for castles. In fact up until a few years ago I was not aware that Greece had castles. Islands and gorgeous beaches, but not castles. And up until last year I had never seen it rain here.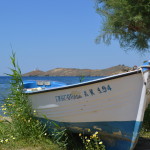 So while it was raining I was surfing the net, and I don't really know or remember how I came across the idea of a cooking vacation but there was this page in front of me with a nice selection of different countries. I knew I was due to be back here in Greece so I selected Greece and I found Kea Artisanal located on some island I'd never even heard of before. Okay that's not terribly unusual but a cooking vacation on a new Island sounded like a great idea and I love a new adventure.
Other than taking your helicopter or maybe your yacht, neither of which I have, the way to get to Kea is by ferry out of the port at Lavrio. On my trip out to the island it was quite windy. Just for the fun of it I shot a video knowing full well that there was no chance anyone would ever hear what I was saying. It's a good thing I had a sweater, as it was a wee chilly as in all that wind. And it's a miracle that the wind didn't whip my little iPhone out of my hands and cast it into the seas with Poseidon.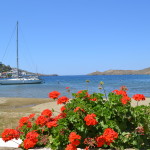 Kea, also known as Tzia is actually the sixth largest island in the Cyclades after Naxos, Andros, Paros, Tinos and Milos with a year round population of just 2,417 people and a slew of cats. The island is 131 square Kilometers in size with a perimeter of 82 kilometers.
While it, like many of the Greek islands is replete with awesome beaches with amazing crystal clear waters Kea is also quite mountainous and the home to a fascinating archeological site at Karthea. It's highest point occurs at Profitis Ilias at 568 meters. The terrain is striking in that most all of the island was terraced at one time for cultivation but also to protect its watershed.
Additionally this relatively small mountainous island boasts 300 chapels scattered all about. There's one attached to the lighthouse that sits at the entrance to Kea harbor. I discovered something really interesting about those chapels but you'll have to read one of my next posts to discover what that might be.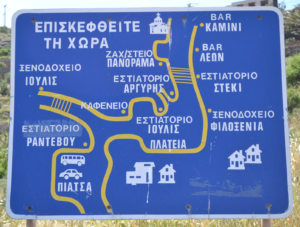 From the moment the ferry glides into the port there ensues a  magical feeling here on Kea. Come travel with me and I will share a whole host of magical adventures and experiences.