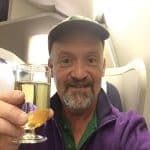 Well I'm off on another adventure and this one will be my longest yet. I have only just arrived on Kea Island in Greece. Kea is devoid of tourists primarily as there is little here for tourists. Actually I am told that this island is the place that a lot of Greeks travel to when they want to escape the city. Many Greeks have weekend or vacation houses here.
I'm here because last year I was exploring the internet looking for interesting things to do in a variety of different places when I came upon the idea of a cooking vacation. And so I discovered a nice one called Kea Artisanal run by a Greek woman and her husband on this little known Island called Kea just off the coast of Attica where you might find a wee Greek city called Athens.
My journey actually started with a lovely glass of Champagne as I settled into my business class seat on British Airways in Boston on Monday May 11. I particularly like British Airways because they always seem to go the extra mile to make sure that passengers are well taken care of. To me that makes the whole travel experience all that much more pleasant and even fun.
My flight from London Heathrow to Athens was late leaving the terminal because one passenger who became too ill to fly and had to then leave the airplane. And of course they then had to remove that persons luggage from down below. So I arrived in Athens, Greece too late to catch the last ferry to Kea. I spent the night in Athens but got up before dawn to rendezvous with a Alexis, my limo driver who whisked me off in a comfy Mercedes to the port at Lavrio. Have you ever driven in either Greece or Italy? It can be quite the adventure in itself. At the port I purchased my ticket for Kea and boarded an almost empty ferry.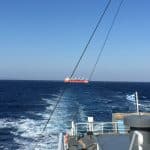 Upon arrival at the port for Kea Island Costas from the cooking school met me in his dusty black pickup truck and took me on a short jaunt exploring some of the nice places to eat and pointing out some of the beautiful beaches that are here on the Island. Costas also brought me to my hotel The Porto Kea Suites where I decided to stay in the Presidential Suite because I am worth it.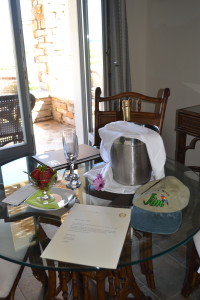 In the room I was welcomed with a bottle of Champagne and a bowl of tasty strawberries. What could possibly be better than beginning this adventure with Champagne and Strawberries on a beautiful Greek Island?