After leaving Florence we made our way via a confused GPS named "Betty" to Pisa. We didn't actually arrive there until after dark, but my camera does quite well in the dark and without the flash. Actually the flash makes for darker pictures.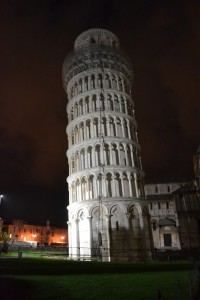 While it was a wee chilly the evening that we were here, there were virtually no crowds and we were able to find parking with relative ease.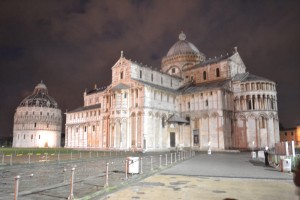 The leaning tower was originally supposed to be the bell tower for the chiuch but of course there is no heavy bell in the tower.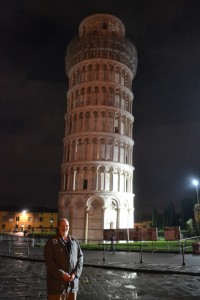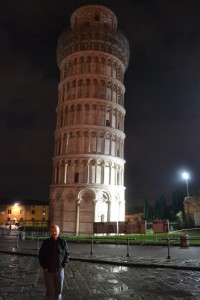 it was actually Chet's idea to have the pictures taken with the tower in the background.
Don't be surprised if around Christmastime 2011 that you receive this picture of him on a Holiday card. 🙂
Once we left Pisa we were back in the hands of the GPS. We evidently made the mistake of telling it that we wanted to avoid the toll roads. So doing what it was told we then meandered through a variety of small villages until we came to the Village of Monsumano where we had a lovely meal in a small restaurant there and then found a nicely kept Bed & Breakfast that was run by a kind young man from Sri Lanka.
Breakfast the next morning was on the top floor where they had a nice fire going in the fireplace. And since it has been chilly for most of my travels here, the fire was a nice addition for this mornings meal.