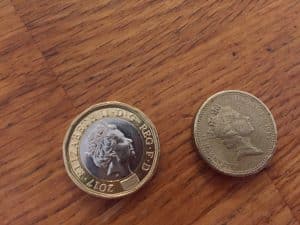 I happened to be reading articles from the BBC that I get in my email every morning and I came across this one article that I thought was really interesting and certainly relevant to my stay here in the UK.
It's just that in the UK they are in the process of changing their one pound coins and their Five pound notes to a different design and appearance. Evidently both of these has been compromised by counterfeiters.
I had never heard of coins being counterfeited but I guess it's a thing as is evidenced by this currency change in the UK. So as of October 15, 2017 the older version of the (the one on the right) will no longer be accepted for payments. I was talking about this to a friend here in Scotland and she said that if people still had the older ones that they would need to deposit them at a bank because while no longer accepted as payment for things that the banks would be taking them for eventual disposal.
The article I read said that the new coin has twelve sides with alternating textures which is hard to see in the picture but held in my hand it's easier to see. Then it also has the two tone metal surface, a new thistle design on one side and some secret security measure built into it.
When I first arrived here I had seen some of the older coins but they seem to be getting scarce. Evidently they have collected over one billion coins already. So, if you happen to have the older coins get them to a British Bank so that you can exchange them, or keep them as a souvenir.
I rather like the new one. It's shiny and new, I like the thistle design and it's easier to see that it is indeed One Pound.