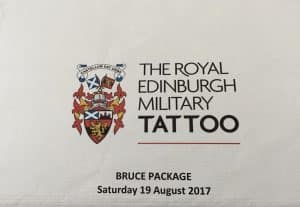 The invitation said to arrive at 17:00 hours. Actually they suggested that I arrive about 15 minutes early as there would be lots of activity then and it would be a busy event and that while their intention was to get everyone in they needed participants to be prompt.
I've been to the old town on many days since I arrived. It's Edinburgh Festival Fringe all the month of August. So to say it's been busy here is a bit of an understatement. I was originally told that the population here would increase four fold. . . but I think that was an understatement too.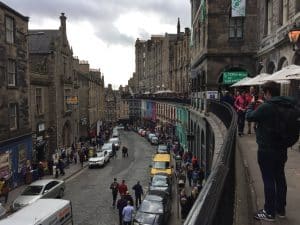 So to get to my event I actually left the cottage in Murryfield (just a short walk from the old towne) with 90 minutes to get me to my destination and the beginning of the Bruce Package.
I got there early. In fact I had a good thirty minutes to kill before I could or really should go in. The streets were packed with tourists, festival goers, and shoppers. Often the street performers command the attention of large throngs of people and they too were replete this evening. Some roads are closed off and some are not. There's plenty to see and do and more than enough to keep myself busy until it's time to go in.
So the Bruce Package includes a three course tasting menu consisting of a select three course menu with starters, main course selections and a desert all accompanied by a brilliant selection of Scotch Whiskies representative of a variety of Scottish regions and tastes. And then of course there was wine.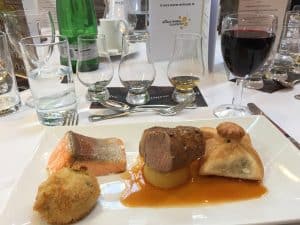 The invitation essentially said that each participant would receive the equivalent of a half bottle of wine with the dinner but it seemed to me that there was much more than that.
I've included the menu here.
Every one of these selections was a delicious as the next. And I have come to appreciate some of the more peaty tasting Whiskies since having enjoyed many fine whiskies with friends over the last decade and more.
It was a delightful shared dinner experience. My dining companions were from Belgium and Germany. The conversations were interesting and our shared experience was as delicious as the meal and the refreshments themselves.
I made some new friends and look forward to seeing them sometime soon in Maine for Lobster.
At some point after coffee I think we had a wee preview of the Royal Edinburgh Military Tattoo Performance that we had all come to see. Three young fiddlers played a couple of selections for us.
Fine Festival Fiddlers from Travels With Jim on Vimeo.