After a marathon walk with Yioryis in the hills behind the village of Saronida we took a nice jaunt down the road to Cape Sounion. Here I was introduced to the ancient temple of Poseidon which sits high on a promontory that extends out into the Aegean sea.
Here Yioryis reminded me of the story of King Aegus and his son Theseus. It goes something like this. Theseus set sail for Crete as a part of a group that was intended as tribute for King Minos. Evidently King Minos demanded a tribute of fourteen youths; seven men and seven women each year who would be devoured by the great and feared Minotaur.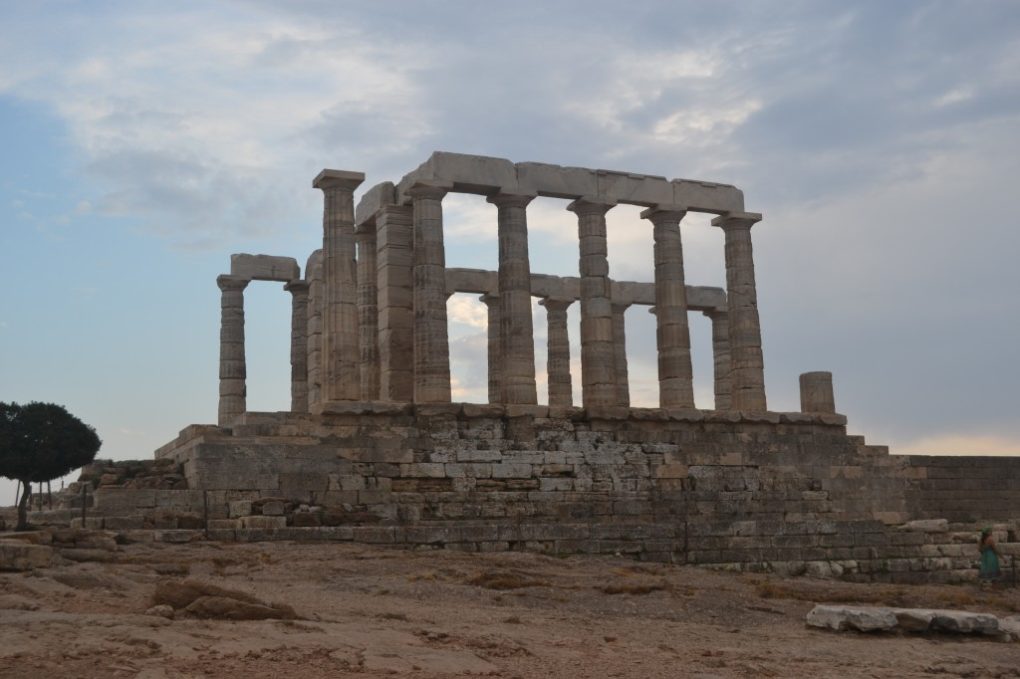 Theseus set sail as a part of this group with the intention of doing battle with the Minotaur and ending the tribute sacrifices to King Minos. Before he set sail he agreed with is father that upon his return if he had been successful in his quest to kill the Minotaur that he would return flying a white sail.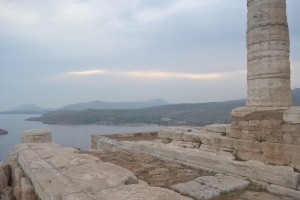 Theseus was indeed successful and slain the Minotaur. However he forgot to fly the white sail upon his return. So when his father saw only the black sail he was so stricken with grief that he hurled himself from the cliffs just beyond the Temple of Poseidon into what is now known as the Aegean Sea.
Yioryis pointed out the stone from which King Aegus hurled himself to his death on the rocks below. While much of the area is roped off to keep tourists and others from venturing too close to the edge much of the area is open. The main temple is now roped off and un-pretentious guards mill about with the other visitors to the temple.
I was completely unaware of the presence of guards until one of them sounded an alarm alerting other guards that an invader had crossed the boundaries around the temple and were (somewhat) secretly ensconced inside the temple. The invader and his lady friend were removed from the area.
While we were there Yioryis scoured the areas that we could see from behind the ropes searching for the inscription in the temple wall that reads "Byron." Evidently in the early 1800's Lord Byron traveled to Athens and Sounion and is said to have carved his name into the stone below the columns.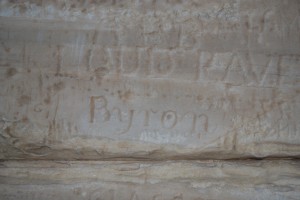 It was Yioryis who was able to speak to one of the temple guards who then took my camera up to the area on the temple where the inscription clearly says "Byron." While there is some contention about the authenticity of this carved name it is indeed clearly a part of the history of this place.
Byron mentions the Temple of Poseidon in his poem "The Isles of Greece."