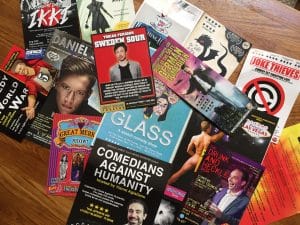 Just imagine over 50,000 performances of more than 3200 shows all crammed into a 3 week time period. It actually seems like it might be a bit longer because some performances are playing right up until August 26th.
And it's not just street performances. There are big names and there are also unknown newbies performing in all sorts of venues. There are stage performances and then there are the street performers.
Since I've never been to Scotland in August I have never been to Fringe. Fringe is only one of eleven festivals held in Edinburgh each year. And it's also the time that the Military Tattoo is performed. I'll be going there later this week.
The cab driver told me that Edinburgh, normally a city of about 400,000 people, would triple in size and population for the Fringe Festival. But my friends who live here have told me that there will be as many as two million people traveling to and through the area specifically for the fringe and other festivals.
There really is something for everyone, and it seems like all the time. There are dancers and drummers and singers and mime. There's opera and theater. Juggling all kinds of things including fire and swords. And magic..I love magic shows.
Now some of the performances are at 1:00 in the morning but in all fairness most of the performances in a myriad of different venues don't actually start until around 17:30. And it's the European way to stay up into the wee hours. Shoot, the second night I was here I didn't get to bed until after 5:00am.
Everywhere I've been I've collected all sorts of these little fliers advertising a myriad of different sorts of performances. And maybe I'm a little unusual but I've had some great conversations with the folks handing out the little cards and leaflets.
I went to one performance just off the Cowgate down the street from Grassmarket in one of those 800 year old stone buildings that was alright but not particularly spectacular. But then found a street performance after that with a fire and sword swallowing Australian that was very entertaining. And of course everyone wanted to see the most dangerous acts. But he did swallow the sword.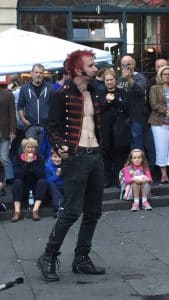 After that another young man handed me yet another flier advertising a group of comedians, again in one of these ancient stone buildings deep in some dark recess…. But wait… "there's a bar!"
Everywhere I've been one of the hooks is that there's a nice bar. But then there are oodles of bars everywhere here in Scotland. Much like Ireland you can't get to the end of any street without having passed by at least a couple of bars. Maybe the key is if you drink more then the shows get better. . .
This evening I'm off to find some other sorts of performances. Drumming and dancing and maybe some great music. I'll be sure to bring back pictures and videos so that you too can enjoy…well at least a part of the show.