I've traveled to Ireland three times now. In November of 2007 I arrived with a group of friends. We had a fabulous Thanksgiving party. In July of 2008 I was in Ireland in part to find my ancestral home, Malahide Castle in County Dublin but also to see my friend Branden graduate from Queens University in Belfast. During both of those trips City Hall in Belfast Northern Ireland was essentially closed to all but essential personnel while they completed a two year refurbishment which cost Eleven Million pounds. City Hall was reopened to the public and tourists on the 12th of October 2009.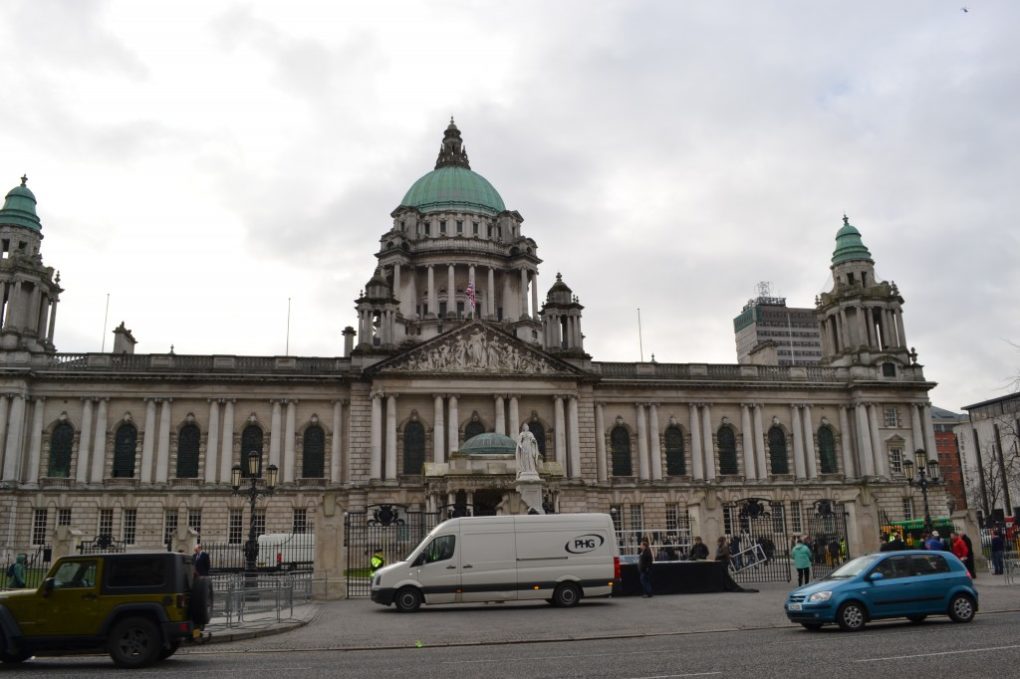 On March 8, 2011 I was finally able to get inside to see the renovations. Interestingly just moments before I was there the future King of England, Prince William, the Duke of Cambridge, and his wife to be were visiting City Hall. That of course would explain why the Lord High Mayor was out front being interviewed by the media in addition to the swarms of guarda all running about in their bright yellow jackets.
Alas William & Kate had little time for us and were whisked away before anyone really knew for sure that they were indeed there.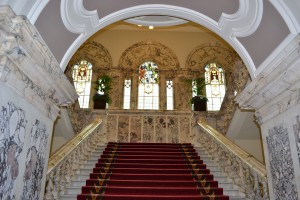 In 1888 Queen Victoria granted City status to Belfast and subsequently authorized the construction of the City Hall building in the city of Belfast. It was originally completed in 1906 and was constructed out of Portland Stone. Its presence in the heart of Belfast was to encourage commerce, the manufacture of linen, rope and ship-building, the most noteworthy being the home of the Titanic.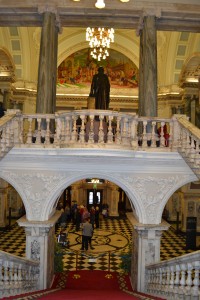 While the recent refurbishment cost eleven million pounds I thought it was interesting that the original construction cost a mere 369,000 pounds. Of course that was 123 years ago.
Since I wasn't able to see the City Hall building prior to the refurbishment I have nothing to compare it to although I was quite impressed with the attention to detail.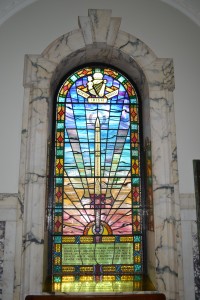 The stained glass panels actually line halls that run both east and west. The City Hall itself faces the north and essentially divides the commerce and arts areas of the city.
Each of the stained glass windows represents some aspect of the struggles of the people in Northern Ireland. While not of religious nature they are impressive and beautiful.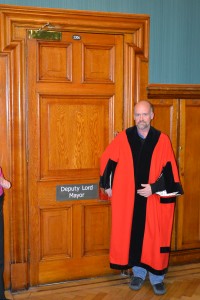 The tour took us through mostly historic areas of the City Hall but we were also able to visit areas where the council actually meets. The old style woodwork and attention to architectural detail is nothing short of amazing.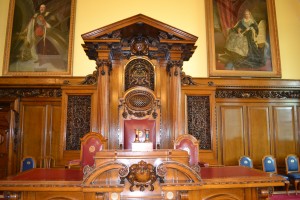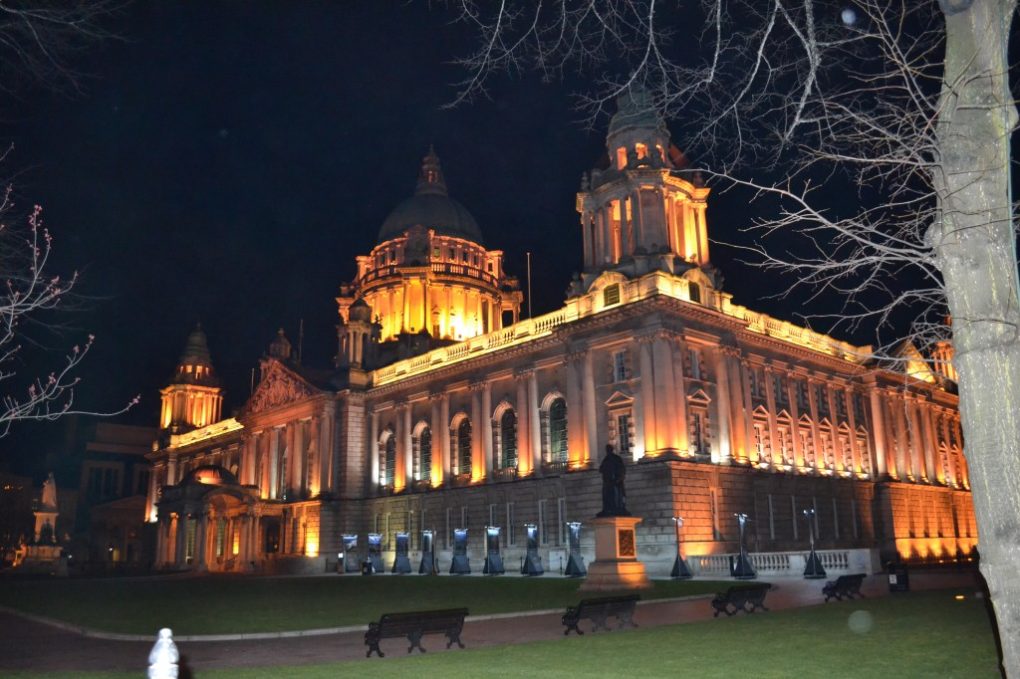 During the Christmas holidays the area in front of City Hall is replete with a myriad of shops selling Christmas gifts as well as tasty treats from all over the world. During other times the grounds of City Hall are often used by tourists, residents and others as a nice place for a picnic or some other respite from this busy city.